I love to serve Chirashizushi which means, "Scattered sushi" as an elegant and simple summer meal. It takes a lot of chopping and preparing ahead of time but no last minute work is necessary and it is a cool and refreshing meal. The other great thing about this beautiful dish is that you can serve it as a vegetarian meal, use raw fish or cooked fish: whatever suits your taste.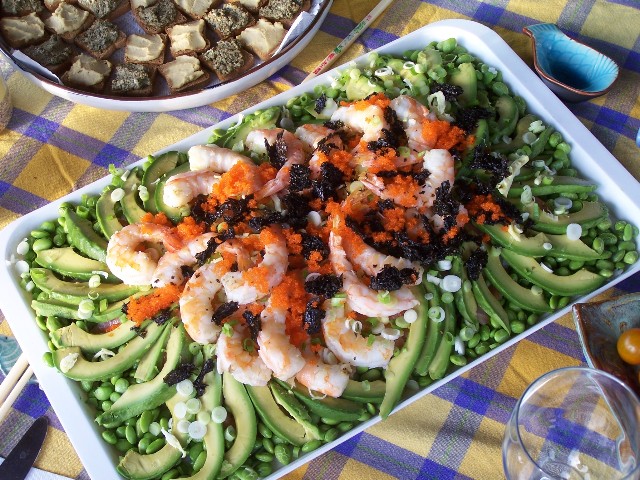 Chirashizushi or Scattered Sushi
First you make a pot of sushi rice and season it as you like with seasoned rice vinager.
I make dashi which is a staple Japanese broth using dried bonito. You can buy instant dashi powder at any Asian grocer and at grocery stores with international sections. It comes in a little jar that you can keep in the fridge. It also goes in Miso soup and has a wonderful salty, rich flavor that you'll associate with Japanese food.
Your imagination is the limit to what you scatter on the platter of rice. I use: smoked salmon cut in strips, shrimp that I have cooked beforehand, dried shitake mushrooms that have been soaked and then boiled in dashi, soy and sugar. Tobiko (flying fish roe) is a great addition and can comes frozen fromthe Asian food store (Ithaca Soy has it), edaname (soy beans) which you can buy out of the pod at the Asian soy store as well, or buy them in the pods frozen at Wegmans and take them out of the pods after cooking as directed on the package.
Egg is a necessary ingredient and you can either make a paper thin rolled omelette and then slice it into shreds or, an easy variation is to hard boil a couple of eggs and grate them. Another necessary ingredient is seaweed and you can either slice sushi seaweed wrappers into think strips or buy a wonderful seaweed blend I found at Ithaca soy called roasted laver and it comes in a package for $3.99. You can crisp it up briefly in a toaster over and then break it up a little.
You can cook up shredded carrots and to make it easier you can buy them already shredded. Chopped scallions are important and any sushi grade raw fish. Tofu Kan ( that you can buy anywhere in Ithaca) is a great addition as well.
Though not classic, I make a little side sauce to pour on if people wish. I make a mixture of dashi, ginger, wasabi, and ponzu which is a citrus soy sauce.